In Mie University, we strive to enhance various creative applied and basic research activities, and keep our traditions to develop further international research in scientific fields and innovative research contributing towards the society.
We will never be satisfied with the research in the limited fields, our motivation is always be glocalized, and our research activities are making the circle of industry, economics, society, nature, history and culture. This is the motive and the theme for our research creating our future.
We continue to have strong adhesion with community as a cross-learning complex. We also established "Research Strategic Promotion Office" in 2009 to reflect our research activities and the results to the education.
We encourage strengthening collaboration with each office and other universities for improvement of research environment and increase of sponsorship contract. Since 2011, we have set the Industrial Technology Innovation Institute and Creative Research & Development Institute including the Food Materials Search Lab, which is one of the Institutes of "Mie Regional Innovation with Food."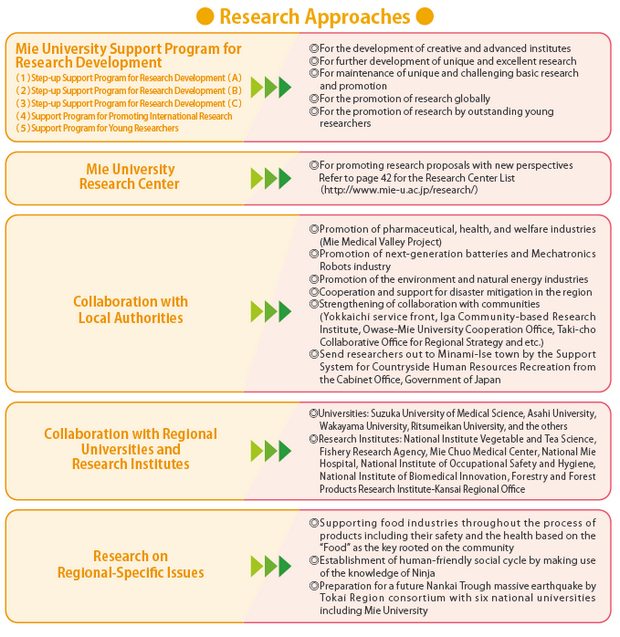 Mie University Support Program for Research Development
To promote our research activities, Mie University carries our research planning, support, and evaluation through the Research Promotion Office.
To promote group project research activities on unique, regional and expansive research by outstanding researchers with a focused agenda, we conduct the Mie University Support Program for Research Development with five on-campus projects as follows: Step-up Support Program for Research Development (A), Step-up Support Program for Research Development (B), Step-up Support Program for Research Development (C), Support Program for Promoting International Research, and Support Program for Young Researchers. Through these projects, we support researchers and research groups with scientific research funds of Grant-in-Aid for Scientific Research, Young Scientists, and Challenging Exploratory Research.
Collaborative Research
Mie University encourages interdisciplinary research beyond the boundaries of courses, faculties and graduate schools, including with other Japanese universities and international collaborative research. We also conduct a wide variety of cooperative and funded research and local & regional bodies to contribute to regional revitalization. Research coodinators of Mie University who are working in Community-University Research Cooperation Center Mie TLO Co. Ltd., coodinate joint projects among industry, government and academia match the needs of private companies with University research seeds. We aim to promote joint research utilize research results, contribute to local communities, and develop human resources by the collaboration.
Intellectual Property Creations and Industrial Technology Innovation Institute
The Management Office for Intellectual Property was established to develop and manage the university's intellectual properties. The office provides educational activities on intellectual property and develops individuals who can handle intellectual property matters. The office also creates intellectual properties and performs activities related to patents. Mie TLO Co. Ltd., transfers patented intellectual properties to private companies.
The Industrial Technology Innovation Institute was established to promote unique research activities and foster creative individuals with advanced professional skills. The Campus Incubator offers a work space for entrepreneurs who use Mie University Research Seeds to start new venture businesses.
Publication of Mie University Research Seeds
Mie University aims to use its intellectual properties to promote cooperative research with local industries. To realize this goal, the Research Seeds of about 700 faculty members are available both in the Website and CD-ROM.
(http://www.crc.mie-u.ac.jp/seeds/)
Life Science Research Center
The Life Science Research Center is composed of three units, which include seven departments and five experimental facilities. The center functions to promote education and researches and to comprehensively support various life sciences studied at Mie University and in the regional areas.