Mie University is promoting internationalization and enhancing international education and collaborative research activities to form global human resources rooted in the community. Furthermore, we expand cooperation with society and international exchanges with universities all over the world. In 2014, to enhance internationalization and international exchange activities of Mie University, "International Exchange Headquarters"was established.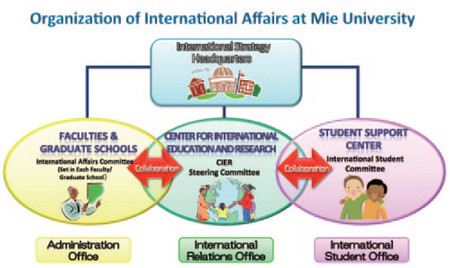 International Career Development Program
For the development and nurturing of international personnel, we offer six programs:
Foreign Language Program:
Students have opportunities to participate in foreign language programs at our partnership universities for English and for German.
International Education Program:
We offer courses for both Japanese and international students: a) enhancement of communication skill in English; b) deepening cross-cultural understanding with international and Japanese students; c) participation in the International Internship Program and the Tri-U International Joint Seminar & Symposium; and d) preparation courses in Liberal Arts Education and special courses in the CIER for students to study abroad.
Short Programs for International Education(Field Study Programs):
These programs offer students opportunity to participate in classes, engaging in cross-cultural exchanges at partnership universities in Indonesia, the Republic of Korea, Thailand and Vietnam.
International Internship Program:
We offer students opportunity to integrate career related experience into an undergraduate education by participating in planned, supervised work at partner universities in Indonesia, Malaysia, the Republic of Korea, Thailand and Vietnam.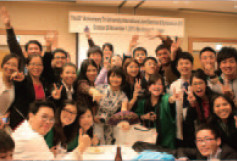 Tri-U International Joint Seminar
& Symposium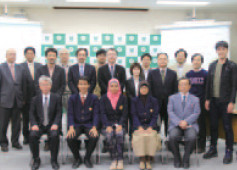 Double Degree Program
Tri-U International Joint Seminar & Symposium:
This is an academic seminar for students to enhance their international experiences, which is held every year at one of the three founder universities (Mie University, Chiang Mai University in Thailand, and Jiangsu University in China) in turn since 1994. Bogor Agricultural University, indonesia, was newly added as one of the host universities from 2011.At the conference, students from invited universities present their research papers in English on the themes of "Population, Food, Energy and Environment." In 2013, the 20th-Anniversary conference was held at Mie University with participants from 20 partner universities. In 2014, the Seminar & Symposium will be held at Chiang Mai University in Thailand.
Double Degree Program:
Mie University has established an collaborative educational program with overseas partner universities, making it possible to earn a bachelor's degree from both Tianjin Normal University in China and Mie University, and also to earn a Master's degree from Sriwijaya University and Universitas Padjadjaran in Indonesia and Mie University.
National University Project for Promotion of Reform and Stre ngthening
Mie University collaborates with Nagoya University and Aichi University of Education to carry out the "Project for Accelerating Internationalization by Fostering Global Personnel in Asia with University Collaboration". This project was adopted as the "National University Project of Promotion for Reform and Strengthening 2012" by the Ministry of Education, Culture, Sports, Science and Technology (MEXT). Through this project, in collaboration with the three universities, we promote accepting international students and sending Japanese students abroad. We make effective use of our overseas centers for education and research to develop and implement experience-based educational programs. Responding to the requirements of present society, in which the government and economy are linked to global events, we aim for fostering leaders to solve difficult issues in Asia and throughout the world.
Japanese Language and Culture Education for International Students
Opening Ceremony for
Intensive Japanese Course

Japanese Class
At the Center for International Education and Research in Mie University, we provide Japanese language and culture education classes for all international students. There are five different levels ranging from beginner through advanced according to the student's needs and abilities. An intensive Japanese course is also offered for beginners and intermediate students during a six-month period. Also, some of the courses in Japanese language for beginning and intermediate levels have been offered for the general public since 2009.
Overseas Studies and International Student Support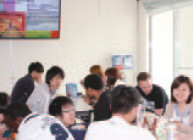 Lunch Session with
International Students
Scholarship Programs:
For students with outstanding academic results, we offer scholarships to study abroad, to participate in international programs including short programs with partner universities, and to participate in the Double Degree Programs. In addition, we support international students living in Japan to study by waving entrance fees and tuition for excellent international students from our partnership universities. Furthermore, we provide information about scholarships from Ministry of Education, Japan Student Support Organization and private foundations.
International Student Support:
We offer support for the implementation of international exchange activities, the daily life of international students in Japan, participation in regional activities, and Japanese language education, through collaboration with the Center for International Education and Student Support Center. Furthermore, we support international students in finding careers after graduation by introducing them to the private sectors in the region.
Inviting Foreign Faculty
At Mie University, we support foreign researchers mostly through grant-in-aids such as JSPS Postdoctoral Fellowship for Overseas Researchers supported by Japan Society for the Promotion of Science and from our partnership institutions. In 2013, we received 33 foreign researchers at Mie University. In addition, we started inviting foreign faculty for our unique short term program in 2014.
Support of Internationalization in the Region
We conduct multi-culture exchange programs such as multi-cultural exchange classes, Japanese education support for foreigners, homestay programs for international students, and others through sending faculty members and international students to educational institutions to support the internationalization and international exchange of Mie Prefecture, where the population ratio of foreign nationals is the 5th highest in Japan.
International Contribution through Education and Research Ac tivities
Based on Mie University's philosophy, "Mie to the World," Mie University aggressively deals with international contribution projects for the advancement of developing countries mainly in Asia and Africa. More than 150 Mie University faculty members have been sent to developing countries as JICA experts and mission members of JICA (Japan International Cooperation Agency ). Furthermore, we receive international students from Afghanistan and support development in the isolated island of Fiji through international cooperation projects such as JICA.
Center for International Education and Research (CIER)
The Center for International Education and Research (CIER), was inaugurated on October 1, 2005, as a special facility for research and education. The aim of the CIER was to become the heart of internationalization at Mie University. Currently (as of July 1, 2014), our partnership has expanded to 92 universities/institutions in 35 countries/regions, conducting mutual exchange activities and international collaborative research.