As a center of leaning, we provide a world-class community-based education with opportunities for research on the harmonious coexistence of nature and mankind rooted in community. In the field of Education, we strive for the development of international and creative future educators who have "The Ability to Empathize," The Ability to Think," and "The Ability of Communicate," with a comprehensive ability of "The Ability to Live." With the support of the Higher Education Development Center, the College of Liberal Arts and Sciences, and the five faculties and six graduate schools, are expanding their distinctive educational opportunities.
Higher Education Development Center
The "Higher Education Development Center" was established to promote Mie University's educational goals, titled the "Four Key Abilities". We lead creative development and promotion support in educational activities. Educational systems, utilizing active learning, Moodle, e-portfolio in PBL education are developed and expanded through the "Higher Education Development Center". Additionally, students' achievements in Education is observed and evaluated through our web research system.
Center for Student Support
We support students for discovering their own abilities, imagining their future, designing the steps for achieving their goals, and shining as a real treasure on their own following our "Mie University Student Support Policy." Specialized faculty and staff members support students at the "School Life Support Office," "Student Disability Office," "Student Counseling Services & Info," and "Career Support Center."
Educational Goals
We develop"Four Key Abilities," which are "The Ability to Empathize," "The Ability to Think," "The Ability to Communicate"and" The Ability to Live,"for the cultivation of human beings who a recapable of promoting regional innovation with a dvanced knowledge and technology based on broad education.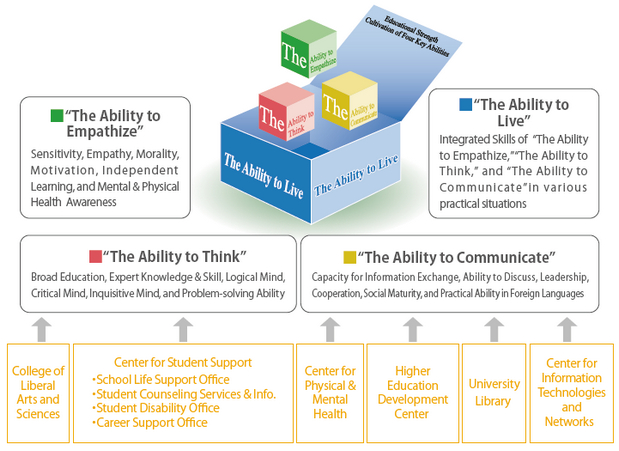 Active Learning
Start-up Seminar
This is a required seminar for all newly enrolled students. This seminar helps to acquire broad generic skills with an understanding of the educational goals of Mie University's "Four Key Abilities." Students are to discuss important issues and seek solutions in groups. Then, they are to make presentations accordingly. Our Start-up Seminar has gained national attention as a highly esteemed seminar in which students learn academic and communication skills, particularly in listening and speaking, which are necessary for university study.
Workshop on Liberal Arts
This is a required course for all first-year students in the fall semester. Students read articles, discuss the content in small groups, write reviews and share and critique opinions in workshops.
Cultivation of Global Human Resources
Improvement of Communication Skills
Students are to take the TOEIC IP test after entering University. According to the test results, students are to study English at appropriate levels. To acquire credits in English, students are to reach a certain score on the test. Additionally, language tests on German, French and Chinese are accepted for credits with transcripts. Furthermore, subjects offered by the college of Liberal Arts and Sciences, and subjects offered by the five Faculties are conducted in English.
Special Program for English
Students who achieved excellent results on the test can take the "Special Program for English". Students in the program are to take advanced English courses designed to offer global perspectives. In addition to taking the Start-up Seminar and Workshop on Liberal Arts, they are to take Comprehensive Liberal Arts and Sciences classes in English. At the end of the Program, they are to study in the U.K.
Career Development Education
Educational Program for Career Peer Supporter Qualification
We encourage students to gain the beginner and upper level qualifications of Mie University in order to obtain a wide range of work experiences. The students who have finished this program become peer supporters to assist the education of students.
Education for Sustainable Development
We encourage students to gain various environmental qualifications. The students who have completed the subjects specified by this program will be granted the "Certificate for Education for Sustainable Development Program."
Education for Collaborating with Society
Mie University conducts career advancement education which develops independent personnel with social and practical abilities through mutual support programs with faculty, staff members and students setting peer support office.
Problem Based Learning (PBL) Tutorial Education
We provide PBL Tutorial Education so students have opportunities to work in small groups. It helps students increase communication skills and problem-solving abilities, while bettering themselves.
E-Learning
An E-Learning Education System provides tools and information on using the web to improve students' communication skills through Moodle, e-portfolio, and TOEIC online study systems. With the help of the Center for Information Technologies and Networks, the E-Learning Education System enables the promotion of active learning via e-Learning systems. Using Moodle, faculty and students can have discussions outside class and students can turn in homework assignments. E-portfolio enables students to view their own progress and to reflect on the successes and challenges of the learning process.
JABEE Accredited Education Program
JABEE (Japan Accreditation Board for Engineering Education) is a public organization for accrediting the education program to cultivate specialists to meet socially and internationally expected standards. Currently, the education program of the Faculty of Bioresources (Regional Conservation Engineering, Department of Environmental Science and Technology) is accredited by JABEE. The Faculty of Engineering (Department of Electrical and Electronic Engineering), and the Faculty of Bioresources (Department of Life Sciences) applied and were accredited in the past. Thus, we provide world-class engineering education.
Regional Contribution
Promotion of High School Education( Educational Collaboration between Universities and High Schools)
Mie University contributes toward promotion of the "Super Science High School Program(SSH)" and "Science Partnership Program(SPP)." We also offer conferences for promoting educational collaboration between universities and high schools, and accredited open classes and summer seminars to high school students. In addition, Mie University faculty members visit high schools and give "Delivery Lectures." In 2013, we visited high schools around 130 times for 5,200 students.
Lectures for Renewing Teaching Certificate
We offer "Lectures for Renewing Teaching Certificate" accredited by the Ministry of Education, Culture, Sports, Science & Technology, which is obligated for the teachers to renew their certificates. About 3,100 people took the lectures in the 121 courses in 2014.
Extension Courses for the General Public
We provide extension course for the general public and deliver lectures at "Mie Academic Seminar" as well. Around 8,500 people attended the lectures in 2013. In addition, among some of the regular courses at Mie University, around 60 courses are opened to the general public and about 50 people yearly join in the courses.