Mie University contributes to the development to communities and promotes mutual cooperation with them through its education and research.
We support local intellectual services and promote cooperative activities among industries, universities, governments, and citizens.

Support Organizations
Community-University Research Cooperation Office, Life Science Research Center, Venture Business Laboratory, and Campus Incubator are at support.
Coordination of Cooperations
Community-University Research Cooperation Research Office, Yokkaichi Community-based Research Network, Iga community-based Research Institute, and Mie TLO Co. Ltd., are cooperating on coordination.
Local Intellectual Services
Support citizen intellectual activities through Yokkaichi Community-based Research Network, Iga Cooperation Field, and Iga Community-based Research Institute.
Links with Society
It is important to develop and manage unlimited and original creation of intellectual property for science and technology which can contribute towards society by taking the advantage of education and research at the university. Mie University aggressively conducts collaborative activities with society. We support "Youth Science Festival," "Children University" at the Iga Community-based Research Center, "Ninja Study Seminar" at the Iga Cooperation Field, and "Disaster Prevention and BCP Planning Seminar for Private Sectors." We also offer practical learning education such as "Education Program for Developing Human Resources for Disaster Mitigation" and Community SMEs Problem Solving MOT (Management of Technology) Education Program, for the public.
Graduate School of Regional Innovation Studies was established in 2009 to foster human resources practically through collaborative activities and to produce core personnel for industrial circles in communities.
In April, 2011, the "Regional Area Strategy Center" was opened as one of the offices in the Community-University Research Cooperation Center. The Center works on giving suggestions and recommendations on issues such as industrial development, regional improvement, tourism policy, and environmental policy for contributions to society through collaboration between municipalities. In addition, "Disaster Mitigation Research Center" was opened in April, 2014, to promote research, education and social cooperation on disaster prevention and mitigation as well as to contribute towards disaster medical care in the region around Mie Prefecture.

Grant-in-Aid
Research promotion by grand-in-aid for cooperative researches in trust, and grants & endowments
Grant-in-Aid Programs, etc.
Holding lectures and making research institute
Collaborative Research Projects with Industry-University-Government
This is a project for Industry-University-Government and local communities to cooperate and reorganize the industrial structure to encourage the local economy. The part of the project is called "Mie Regional Innovation with Food" and is a project to support the local food industries. We have established the Food Material Search Lab inside the Creative Research & Development Institute. Thus, we expand collaboration research with private sectors.
Bilateral Cooperation with Municipalities
Mie University has mutual friendship agreements with municipalities and museums. A disaster prevention cooperation agreement is concluded with Mie Prefecture. We work to develop local industries, utilize historical and cultural assets, create new industries, and undertake research in areas such as welfare, health, urban development and disaster mitigation under these agreements.
Research for Contribution toward Communities
Mie University promotes research on issues relevant to Mie Prefecture, Ise Bay, and Kii Peninsula, and holds symposiums and forums for locals.
We also work on activities based on education and research handled by our faculty and staff members for the purpose of creation and promotion of regional creation and promotion activities by Mie University.
Community-University Research Cooperation Center
The Community-University Research Cooperation Center aims to deepen cooperation among industry, government, and university to utilize intellectual property of Mie University and to promote distinctive research and development. The Center focuses on contribution to research and education by Mie University, and also for the enhancement of industries, culture, and welfare services of Japan and local communities.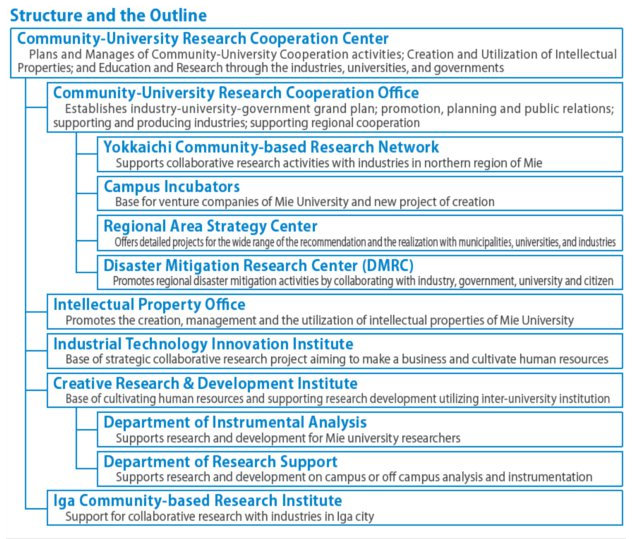 Public Relations Office
We offer news about our innovation, research results and information, and hot news inside our university through Mie University website, and PR magazines.
Management and operation of Mie University Website and press release
Publication of magazines (Mie University Outline-1/year, Wave Mie Univ.-1/year, Mie Univ. X- 2/year, Flash News-Every month ,Mail Magazine-Every month)
Extension Courses
Mie University provides communities with access to education and research results through various programs as a university open to society.
Open Classes for Public
To strengthen cooperation with the community by social needs for lifelong learning, we opened some of the classes to public from 2009 so that people in this area and students can study together.