Certification for Environmental International Standards ISO14001


On November 19, 2007, Mie University was granted the certification for ISO14001, Environmental International Standards. This international standard was established for the purpose of minimizing the organizational activities'effect on the environment. Mie University is the first university in Japan to be granted the certificate to a whole university.
All five faculties and six graduate schools located in one campus of Mie University promote "Human Resources with Environmental Mind" through our unique and rich world-class community-based education.
We conduct on- and off-campus research activities at university facilities to actively deploy basic evaluation, reduction, improvement and experimental studies. We emphasize the recognition of the environment regarding various activities such as education and research. In addition, we strive to meet the requirement of environment related law and mitigate environmental pollution, and continuously improve the environmental management system.
Mie University studies regional and global environmental issues, using the abilities of our own education, research, regional contribution and operation to contribute toward formulating a revolving
and sustainable society harmonious with nature.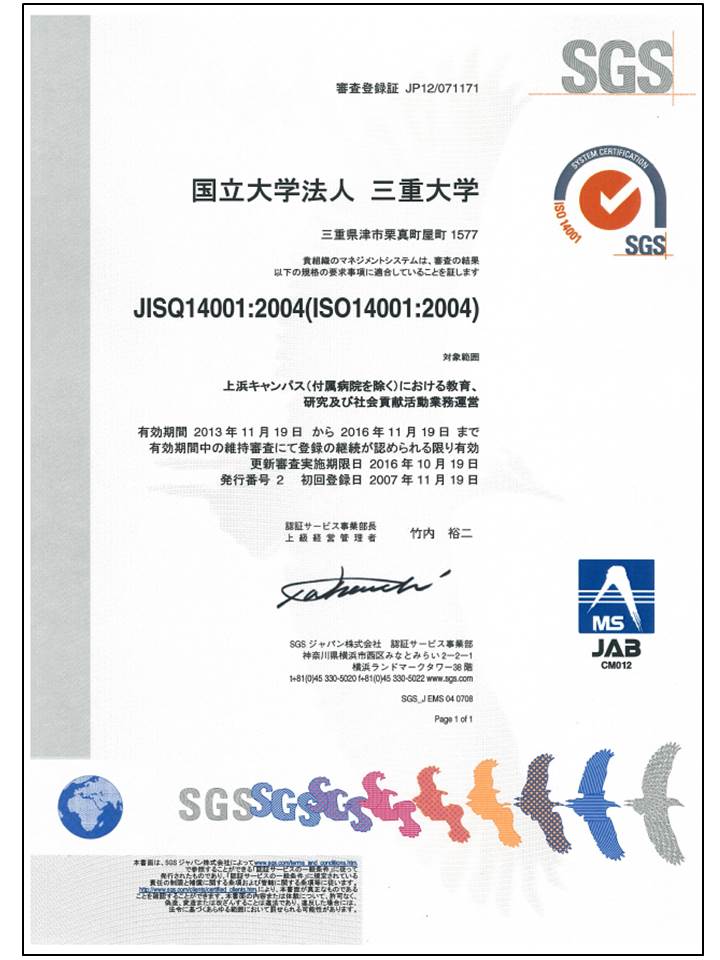 3R Activities (Reduce/Reuse/Recycle)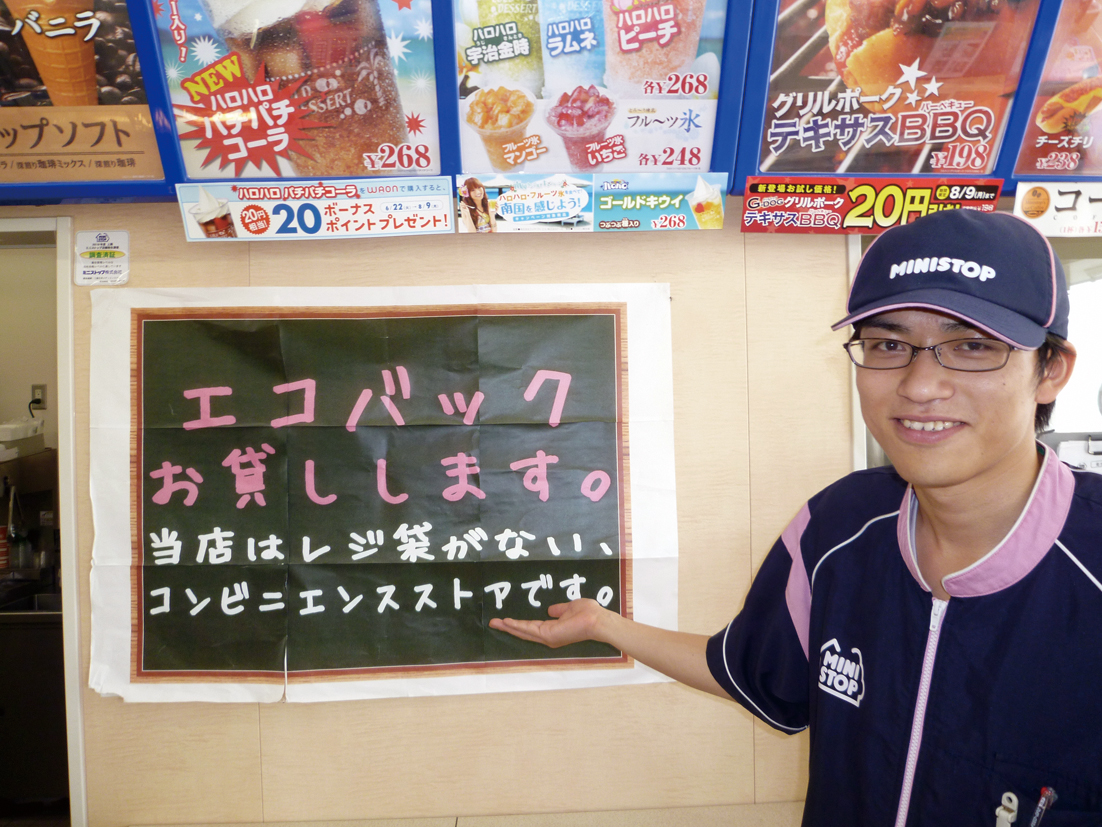 1. Project for Non Bags
Reducing Plastic Shopping Bags in Coop.
From January 1, 2008, Coop has started to charge for plastic bags at the cashier. More than 99% of 20 thousand bags a year has been successfully reduced.
First Convenient Store MINISTOP without Plastic Shopping Bags From October, 2009, the on-campus convenience store, Ministop, has succesfully eliminated plastic bags at the store.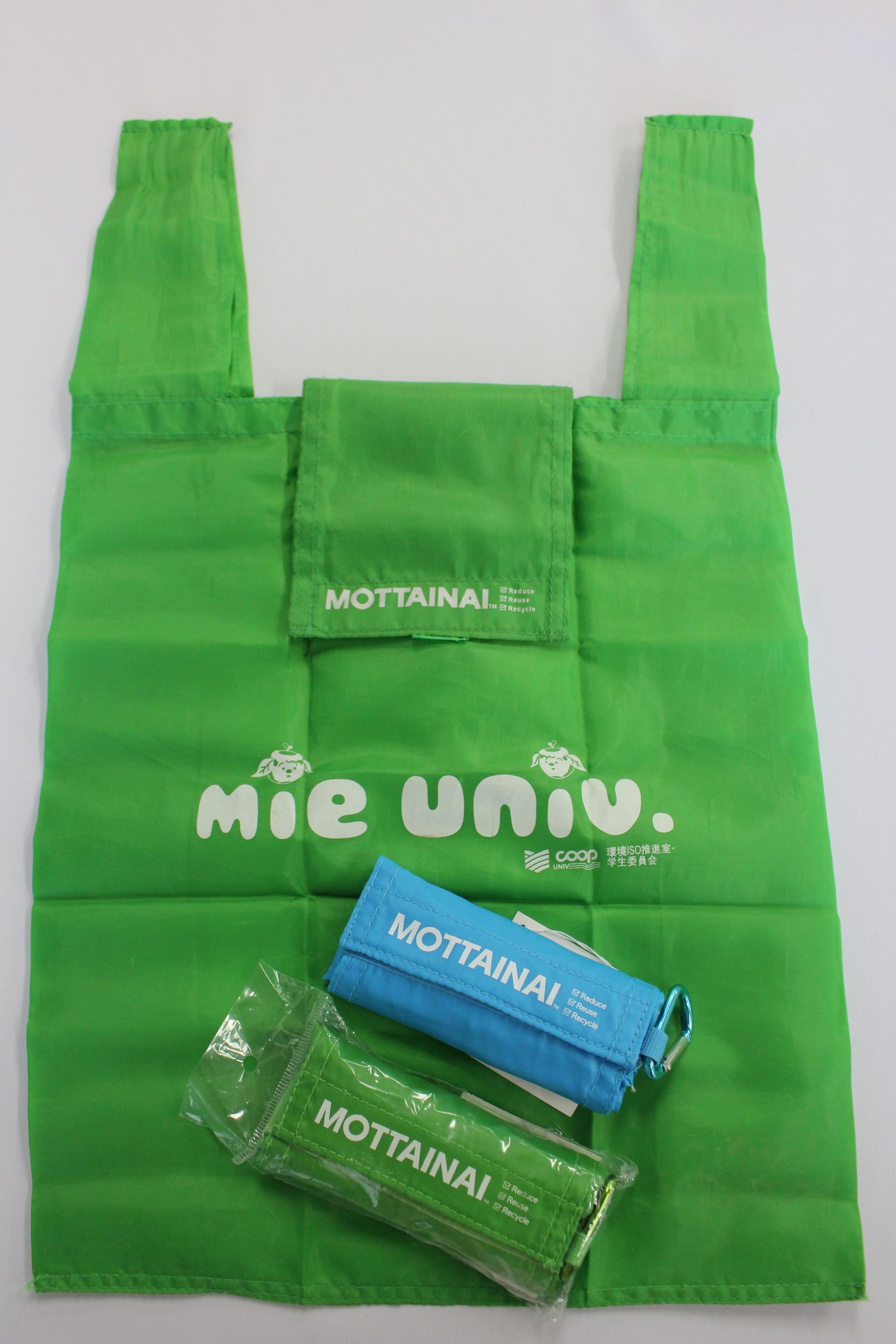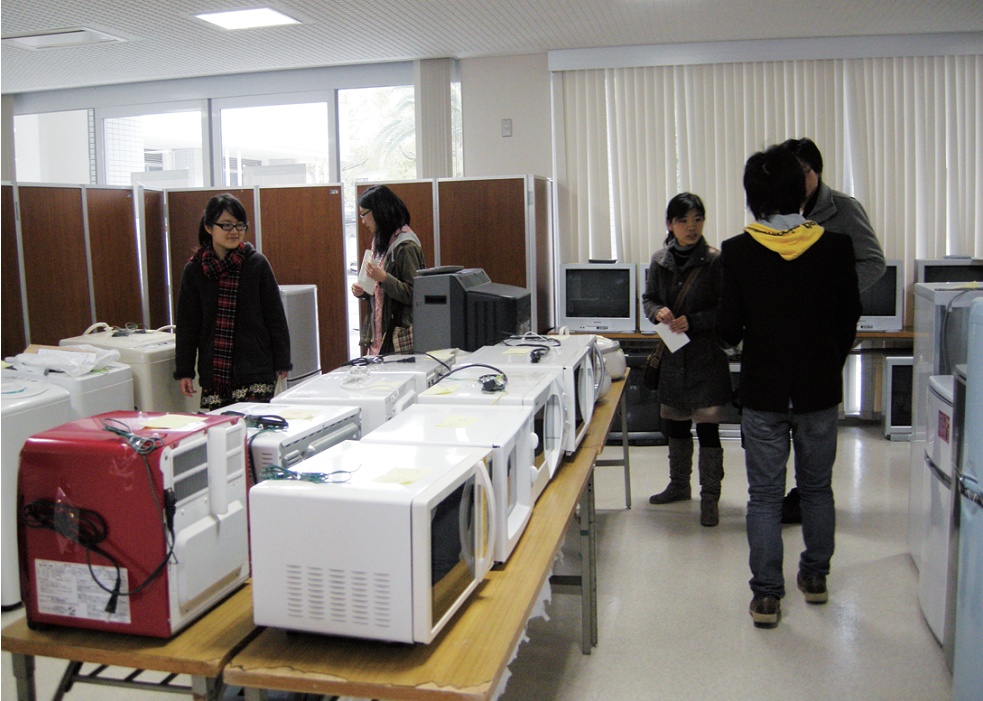 Reuse Corner of Electric Appliances
2. Project for Reusing

We started the project to reuse electric appliances. About 135 electric appliances a year were provided to international students or to new students, this project began in 2009.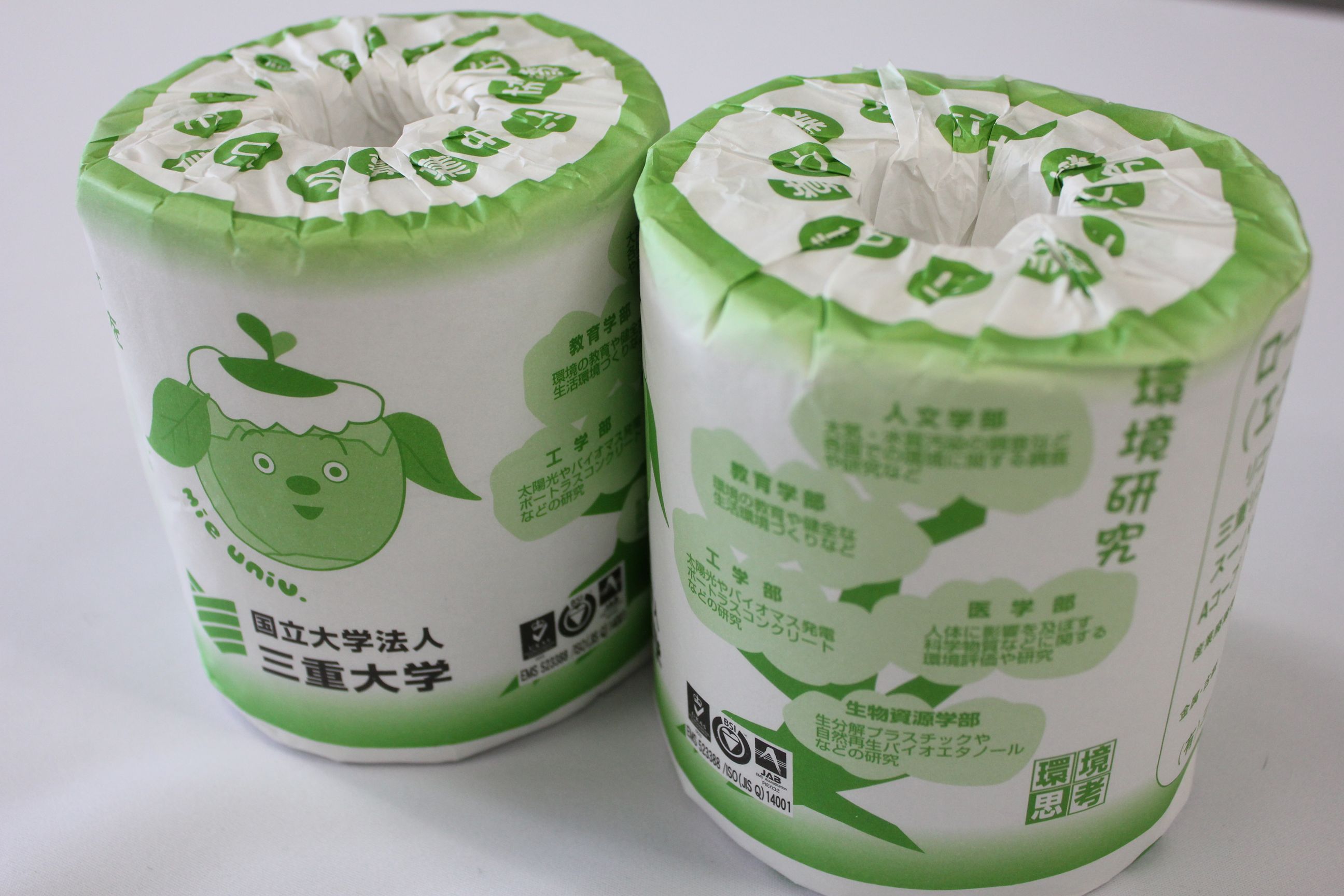 3. Recycle Used Papers for Toilet Paper Rolls/
Recycle System Project
Since 2007, we have collected used papers and recycled them into Mie University's original toilet paper rolls. About 20% of them are provided for use inside the Mie University.
This "3R Activities" earned us the award of "The Minister of Environment Prize Promoting 3R Activities" in 2008.
Environmental Education
Educational Support Program for Acquiring Environmental Qualification / Asia-Pacific University Environmental Education Consortium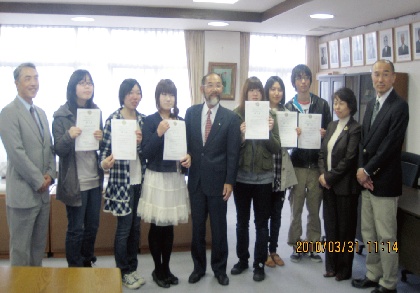 Graduation Ceremony for the 2nd Certificate
for
Environmental Qualification Program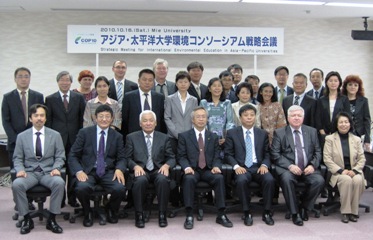 Asia-Pacific University Environmental Education Consortium
Mie University aims to become the most environmentally advanced university and has encouraged students to acquire qualifications of "Environmental Counselors",? "Members for Global Warming Prevention Action" and other qualifications related to environment. Through the unique "Educational Support Program for Acquiring Environmental Qualification", we offer education in effective ways for qualifications related to environment by maximally utilizing various educational resources of Mie University. The number of students taking subjects based on this program in 2009 was 2,659 (about 43% out of 6,200 students) and 16 students who completed the required credits were granted the certifications by the President.
On October 23, 2009, Mie University established the "Asia-Pacific University Environmental Education Consortium" and expanded to 33 universities in 9 countries from the Asia-Pacific region, including Mongolia, Russia, China, the Republic of Korea, Thailand, Indonesia, Australia, and the United States for the purpose of world class environmental education for promoting human resources rooted in community. Mie University conducts activities such as the development of the International Environmental Education Program and promotion of International Environmental Research. We provide students classes in English though several distance learning courses and video conferences as well as the International and Environmental Internship Program at private sectors and public administrations.
Carbon Free University/Smart Campus Concept
Reduction of CO2 Emissions by 30% below 1990 Level in 2020
Mie University sets an ambitious goal of "Reduction by 30%" for the governmental goal of "Reduction by 25% below 1990 level in 2020." We also try to reduce CO2 emissions by 17% through visual reminding of electricity and energy-saving activities by students, faculties and staff members as well as energy-saving activities at home by communities to realize the"Carbon-free University"as a collaboration between university and community. The Smart Campus Concept combining Carbon-free University and Clean Innovation is our unique and double project for promoting the reduction of CO2 emissions.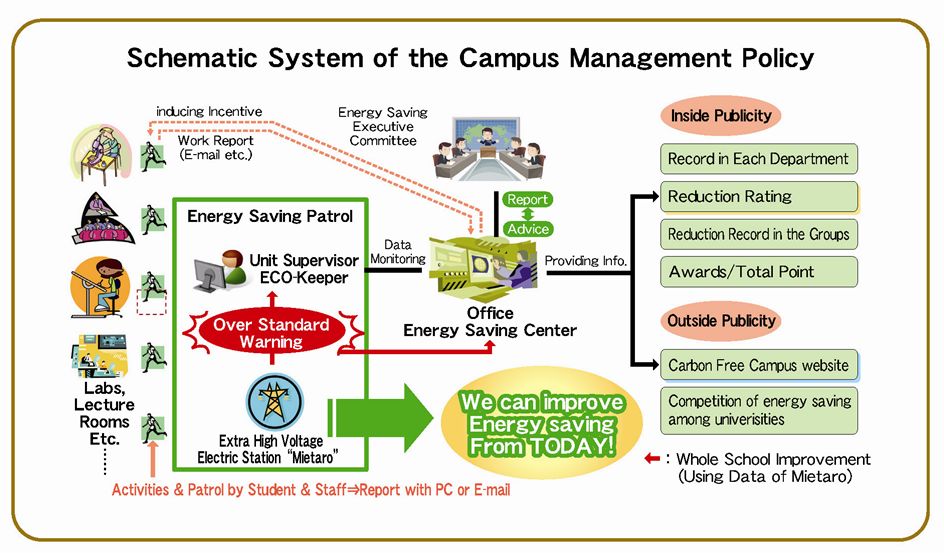 Mie University was granted the "Environmental Management Pearl Award" for the environmental management competition in June, 2010, and the first prize for the Eco-Friendly University in the second national and public university competition in November, 2010.