Our Mission and Vision
Our Mission
From Mie to the world, from the world to Mie ― Mie University builds a better future in the spirit of co-creation with local communities.
The University engages in community-based, world-class teaching and research, and strives for co-creation with local communities in harmonious coexistence between mankind and nature.

Vision
Education
The University nurtures individuals with broad knowledge in liberal arts and sciences, highly specialized knowledge and skills, and a global perspective, capable of driving innovations in society.
Research
The University engages in research activities that conform to high international and ethical standards, producing distinctive state-of-the-art research that contributes to the world, unique community-based research, applied research that provides solutions to problems in our society, and diverse basic research that paves the way for the future.
Social Contributions
The University aspires to realize an enriched, healthy, sustainable society. It contributes to the development and revitalization of society by promoting industry-academia-government partnerships, working to solve various problems as a center for collaboration and co-creation with local communities, and implementing those solutions in society.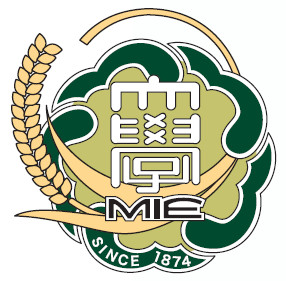 The school emblem has a double ring structure; one ring represents an ear of rice for a rewarding life; the other ring of waves, Rourin, represents the philosophy of Mie University, "Sansui: the three greens of sky, waves and mountain."
This double ring structure expresses Mie University's philosophy and wishes of long friendships and productive lives for its alumni.
In addition, the emblem is generally symmetrical, but the asymmetrical aspect of the design shows the free and progressive spirit of Mie University.
Mie University's predecessor, Mie Normal School, was founded in 1874 and is the oldest of the existing five faculties.