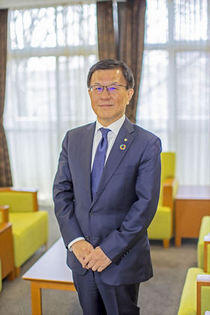 Under the slogan, "From Mie to the World!", since its foundation in 1949, Mie University has upheld its basic philosophy of striving to contribute towards the "Development of Human Resources and Research," enhancing the "Welfare of the Society," through the "Harmonious Coexistence of Nature and Mankind." Mie University is located on a large campus in the beautiful natural environment surrounded by "Sansui," the three greens of forest, ocean, and sky. It is a general university that conducts education, research, and medical treatment at its five undergraduate faculties - Humanities, Law and Economics, Education, Medicine, Engineering, and Bioresources, and six graduate schools, including the Graduate School of Regional Innovation Studies, and University Hospital. It also has a wide range of affiliated facilities, including its Affiliated Schools, Farm Station, Forest Station, Fishery Research Station, and the SEISUI MARU, a training ship.
With the whole of Mie Prefecture as our field of activity, we explore unique features and issues tailored to the characteristics of each region and link them to education and research activities that are unique to Mie University. Each Regional Satellite Campus performs its own missions. They include the Hokusei Regional Satellite Campus, which engages in industry-academia collaboration, Iga Satellite Campus, which conduct research into Ninja, Ise-Shima Satellite Campus, which engages in the study of Ama (Japan's traditional female pearl divers) and marine biology, and Higashi-Kishu Satellite Campus, which is involved in agriculture, forestry, and fisheries and school education in depopulated areas.
On the education front, we foster individuals who possess the "Four Abilities," namely, the ability to discover social issues (The Ability to Empathize), the ability to gather information to think of measures to the issues (The Ability to Think), the ability to discuss with everybody (The Ability to Communicate), and the ability to solve those issues by integrating the Abilities in various practical situations (The Ability to Live).
On the research front, Mie University has established theme-based Outstanding Research Centers, including the Advanced Battery Research Center, Human Symbiosis Robotics and Mechatronics Research Center, Research Center for Materials Science and Advanced Electronics Created by Singularity, Research Center for Development of Recombinant VLP Vaccines, Zebrafish Drug Screening Center, and Bioscience Research Center for Coordinated Breeding, which conduct world-class advanced research.
In the new era of Reiwa, as a community center of "knowledge", Mie University strives to deepen its collaboration with organizations within and outside the university. We will promote educational and research activities in the post-COVID 19 era through many different "knowledge connections." This includes interdisciplinary efforts among faculties, regional industry-academia-government collaboration platforms with local governments and companies, and collaboration agreements with higher education institutions in Japan and overseas. We will grow and develop as a university that co-creates with the local communities and contribute to building new community by exploring various environmental issues such as carbon neutrality and passing the outcomes of these efforts onto the community for the development of the region.
We strive to be a university that is trusted by and brings happiness to local communities, as well as a university that can communicate to the rest of Japan and the world. We look forward to your cooperation and support.

ITO Masaaki, M.D.,Ph.D.
President of Mie University