TOP >
Mie University Library
Mie University Library
The University Library was renovated on March 2013. Tri-functions of "Research Support,""Study & Educational Support," and "Regional Contribution"are the service objectives. Mie University collects and offers a wide range of academic information needed for research, education, and study.
The Laboratory of Regional Studies is also set and works on the advancement of Library services.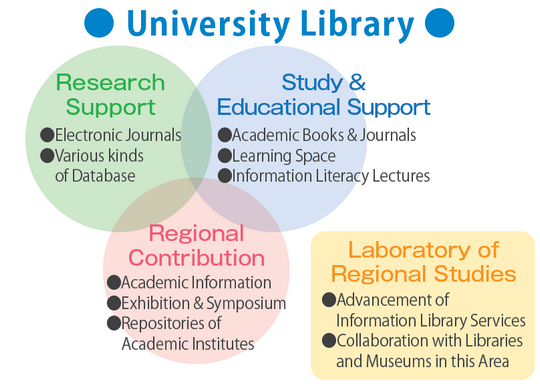 Mie University Library
Electronic Journals & Database
About 10,000 electronic journal titles by major publishers and aggregators such as Elsevier and Springe are accessible 24 hours a day from computers connected to the internal LAN.
We also introduce reference cited database and research information database such as"Web of Science" and "SciFinder Scholar" and encourage research infrastructure improvements.
Educational Environment & Support for Information Literacy Education
We provide an environment conducive to learning, by offering books and journals , quiet study spaces where students can concentrate, locations where students can engage in group studies, and more than 60 computers with Internet connection. Furthermore, we combine with classes and hold lectures for OPAC on how to research information through various databases, how to write reports, and how to give presentations.
Regional Contribution
Mie University Library allows general public access to academic documents of Mie University, and provides academic information to related organizations such as libraries in Mie prefecture. Deliverables from research and studies of Mie University are saved and stored, to provide Institute Repository and the digital archives on the cultural and historical heritage.
Laboratory of Regional Studies
Laboratory of Regional Studies focuses on the research and development of providing conservation for record materials and advancement of information library. We offer information of the achievement from our research collaborated with libraries and museums in the region as an intellectual center.