Message from the President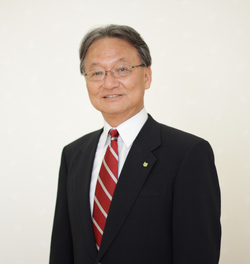 Mie University is located in the beautiful natural environment. It is an environment-friendly University encircled by three green "Sansui" referring to the green brilliant waves in Ise bay, the fresh greens in the Suzuka and Nunobiki mountains, and the clear green sky with white clouds. In this privileged environment, we foster global human resources to be future leaders in the society and conduct research activities based on creative and freewheeling thinking actively. In addition, we play a role as a community center of "knowledge" sending strong personnel to the society and distributing outstanding research results.
Mie University has five faculties of Humanities, Law and Economics; Education; Medicine; Engineering and Bioresources, and also six graduate schools those with Graduate School of Regional Innovation Studies. In addition, there are many facilities such as College of Liberal Arts and Sciences, Life Science Research Center, Community-University Research Cooperation Center, Center for International Education and Research, Mie Global Environment Center for Education & Research, Center for Information Technologies and Networks, Higher Education Development Center, and Center for Student Support. Furthermore, there are sufficient affiliated facilities such as University Hospital, Affiliated Schools, Farm Station, Forest Station, Fishery Research Station, and the SEISUI MARU, a training ship.
Mie University aims that "From Mie University to the World! We provide world-class community-based education and research results through harmonious coexistence of nature and mankind" based on the tradition and performance of its foundation in 1949. As a center of learning, Mie University strives to contribute towards the "Development of Human Resources and Research," enhancing the "Welfare of the Society," through the "Harmonious Coexistence of Nature and Mankind" while close cooperation with society and local residents.
In the local community, as the aging of the population resulting from the decline in the birth rate is rapidly advancing, competition principles are ruling over the society excessively. You may feel uneasiness for your future and your heart may be bereft. In this current situation in difficult times, we would like to make effort with all our strength to cheer up local residents and activate society with all Mie University.
We will strive to make our University reliable by community with you. We really appreciate your kind cooperation and warm support.  

Yoshihiro Komada, M.D.,Ph.D.
President of Mie University