Summary of our research
Ultraviolet (UV) rays can be both harmful and beneficial to humans. This study investigated the toxicity and safety of ultraviolet C (UVC) exposure in living organisms and the corresponding biodefense molecular mechanisms. At the early developmental stage (5-6 h post-fertilization), Zebrafish embryos were irradiated with increasing UVC dosages using high-efficiency deep-ultraviolet light-emitting diodes (278 nm). Morphological phenotypes including survival rate, hatching rate, heart rate, and malformation rate were evaluated. Compared to un-irradiated controls, all zebrafish embryos exposed to 4.5 mJ/cm2 UVC survived and showed no significant difference in hatching and heart rate. However, over 7.5 mJ/cm2 of UVC irradiation caused a significantly decreased survival rate (0-37%). Therefore, 4.5 mJ/cm2 was chosen as the limit dosage that the internal biodefense system of zebrafish embryos can protect against UVC radiation. Transcriptome analysis (RNA sequencing) performed on 3 min and 3 days post-irradiation embryos (4.5 mJ/cm2) revealed the molecular mechanisms underlying the response of zebrafish embryos to irradiation. The embryos quickly responded to UVC-induced stress by activating the p53 signaling pathway. In addition, after 3 days of recuperation, the embryos showed activation of signal transducer and activator of transcription (STAT) signaling pathway. This is the first study to evaluate the toxicological effects and the molecular mechanism of biodefense in zebrafish embryos upon 278 nm UVC irradiation.
This study was published in the online scientific journal "Ecotoxicology and Environmental Safety" (Elsevier, Impact Factor 6.291) on January 18, 2022.
Significance:
The toxicity and safety of UVC irradiation in living organisms were investigated.
Zebrafish embryos at the early developmental stage survived after 4.5 mJ/cm2 of UVC irradiation.
Zebrafish embryos respond quickly to UVC-induced stress via the activated p53 signaling pathway to facilitate DNA repair and accelerate damaged cell death, and then shift to the activation of the STAT signaling pathway to repair the DNA damage and avoid apoptosis of the newly proliferated cells in the recovery period.
This study provided a piece of scientific evidence for evaluating the safety of using UVC on humans for inactivating coronaviruses.
Researcher information
Liqing Zang
Specially Appointed Associate Professor, Graduate School of Regional Innovation Studies; Strategic Planning Office for Regional Revitalization
Specialized area:
Pharmacological genomics; Molecular biology; Experimental zoology; Genomic biology; Physiology
Current research field:
Development of type 2 diabetic nephropathy model zebrafish and discovery for therapeutic target genes
SHIMADA Yasuhito
Lecturer, Department of Integrative Pharmacology; Mie University Zebrafish Drug Screening Center
Specialized area:
Pharmacological genomics; Bioinformatics
Current research field:
Drug discovery using obesity and cancer model zebrafish
MIYAKE Hideto
Professor, Graduate School of Regional Innovation Studies; Graduate School of Engineerin
Specialized area:
Semiconductor Engineering; Crystal Growth of Compound Semiconductors
Current research field:
Nanostructure control of nitride semiconductors
NISHIMURA Norihiro
Professor, Graduate School of Regional Innovation Studies
Specialized area:
Translational Medicine; Regional Innovation Studies; Industry-Academia-Government Collaboration
Current research field:
Evaluation of functional foods using zebrafish disease models;
Regional innovation studies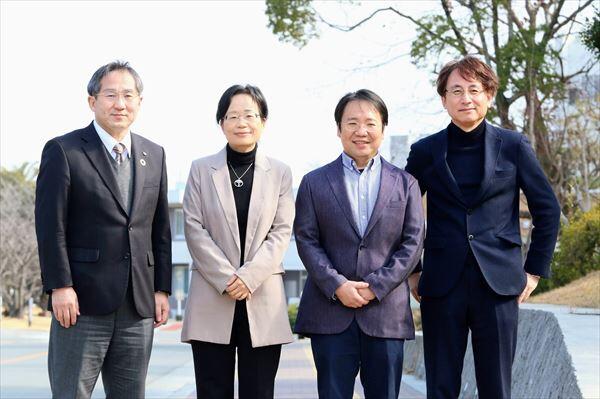 Professor MIYAKE Hideto (left)
Specially Appointed Associate Professor Liqing Zang (center left)
Lecturer SHIMADA Yasuhito (center right)
Professor NISHIMURA Norihiro (right)