Purpose and background
Programs on project management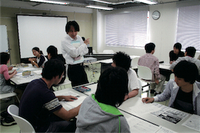 What are the major differences between traditional graduate schools and our graduate school? The purpose of traditional graduate schools is to provide students with expertise knowledge and skills in carrying out research and development (R&D) in a specific field. Nowadays the business field actually hopes that they possess ability of not only R&D but also executing projects themselves, which we call "project management". The scope of their work is to manage the project from beginning to end. This includes new products and/or business planning, marketing, and entry into a new market. Besides programs for acquiring advanced knowledge and skills in a specific research field, we provide students with programs that are required for project management. If you join us as a student, we will enable you to be active in the domestic and even global business world.
Promotion of regional innovation
Programs on project management enable us to participate in the promotion of "regional innovation". What does "regional innovation" mean? Today regional organizations including companies, firms, industries, and associations are in a global business environment and are trying to create new ideas for products and/or business to be competitive in this environment. Such activity of regional organizations is innovation from regional sites to the global business world, that is, regional innovation. In leading to innovation, regional organizations, however, have a problem of not enough project managers that execute project management in the above sense. It is difficult to employ and/or bring up project managers in local organizations for reasons such as their investment and workforce. Fortunately, our programs on project management enable you to take a leading part in local organizations after your graduation. We regard the production of such human resources as a significant role of a regional university.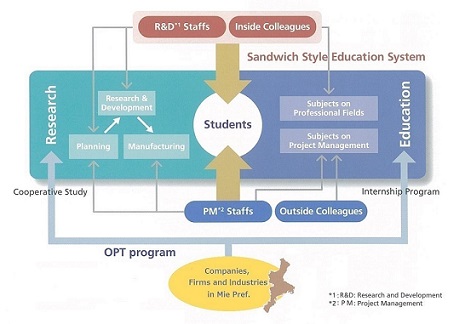 Education in our graduate school
What are the features of education in our graduate school? To provide practice-oriented education on real project skills, we adopt a sandwich style education system and OPT (on the project training) programs. These two features are supported by two different types of staff, R&D and PM (project management) staff. A sandwich style education system, together with OPT programs, is effective to produce talented people with the ability to manage projects and lead to innovation.
Sandwich style education system: High professional knowledge and skills are required in proceeding with R&D of projects in organizations. For leading to innovation, one additionally needs extensive knowledge and skills to manage or complete the overall process of a project. In our programs, you can learn professional knowledge and skills from R&D staff and the extensive knowledge and skills from PM staff. In carrying out a study on a project, you are supervised by R&D staff on individual research themes and by PM staff on management of the studies. We call this new and original education system "sandwich style education". In addition to R&D staff, collaborators in other graduate schools of our university join our programs to provide you with the opportunity of studying wide-ranging research projects. Also in addition to PM staff, outside collaborators who are active in practical business provide lectures on management of real current projects.
OPT programs: We provide you with substantial internship programs relating to your professional research fields, by which you acquire practical knowledge and skills. As practical training on R&D and management in a project, we also provide you with the opportunity of carrying out cooperative studies with regional organizations in a sandwich style education system.
Admission quota

Master's Program

15

Doctor's Program

5
Research fields of R&D and PM staff
Our master's program consists of three units: "Engineering Innovation" , "Bioinnovation" and "Social Innovation". "Engineering Innovation" covers soft composite material, device application and energy technology, "Bioinnovation" does plant science, food chemistry and preventive medicine respectively, and "Social Innovation" does market for agricultural economy, environmental studies, business administration and management. In addition to research fields of the master's program, the doctor's program consists of "Regional Development" unit, which widely covers interdisciplinary research topics. Professional fields of studies in every unit are covered and supported by both R&D and PM staff. Additionally, we have various colleagues inside our university to supervise advanced studies and also outside colleagues for education on practical project management. The entire staff will support you!
Staff
Engineering Innovation, Regional Development
Prof. Norihiro Nishimura(PM):Regional innovation, Translational medical science
Prof. Hideto Miyake(R&D):Semiconductor engineering, Growth of nitride semiconductors, Device Application
Prof. Keiichi Miyamoto(R&D):Medical-materials, Biomaterials, polymer-chemistry,Tissue-engineering
Assistant Prof. Takaya Kato(PM):Biomechanics, Bioengineering, Industrial-academic-government cooperation, Entrepreneurship
Assistant Prof. Hisanori Yagami(PM):Intellectual property management, Technology transfer, Computational scienece, Fluid engineering
Assistant Prof. Yusuke Hayashi(R&D):Semiconductor engineering, Growth of nitride semiconductors, Device Application
Assistant Prof. Xiao Shiyu(R&D):Semiconductor engineering, Growth of nitride semiconductors, Device Application
Bioinnovation, Regional Development
Prof. Issei Kobayashi (R&D): Plant pathology, Applied plant genomics
Prof. Takeo Yano(PM): Immunochemistry, Immunoassay, Food chemistry, Food allergy, Phytochemical, Project management
Prof. Takahiko Aoki(R&D):Quality in marine products, Marine food processing, Glycoscience, Enzymology in marine products
Prof. Kenichiro Suehara(R&D):Biochemical engineering, Food engineering, Waste engineering(Biomass),Bioinformation engineering
Associate Prof. Yasuaki Kagaya(R&D): Plant physiology, Plant molecular biology, Plant molecular genetics
Associate Prof. Mikihito Kanou(PM): Food engineering, Spectroscopic analysis, Intellectual property, Technology transfer
Assistant Prof. Zang Liqing(R&D):Pharmacology, Experimental pathology, Molecular medicine, Molecular biology
Social Innovation, Regional Development
Prof. Eisaku Ohtsuru(PM):Management of Technology & Business Model/Designing with Project Based Learning,Technology Transfer & Commercialization with Experience Learning, Innovational Cases Research:Smart Connected, Autonomous,Sharing,Electoronics&CPS(Cyber Phisical Systems)
Prof. Park Hye-Sook(R&D): Environmental geography, Environmental education, International environmental cooperation
Social Innovation
Prof. Hisatsuna Mori (R&D):Market for agricultural producer goods and feedstuff, Biomass, Recycle system
Associate Prof. Masao Aoki (R&D):Business administration, Management, Business history, R&D management, Small and medium enterprises
Regional Development
Prof. Tatsuo Fujita(R&D): Japanese historical study, Cultural assets studies
Access Map &Getting to Mie University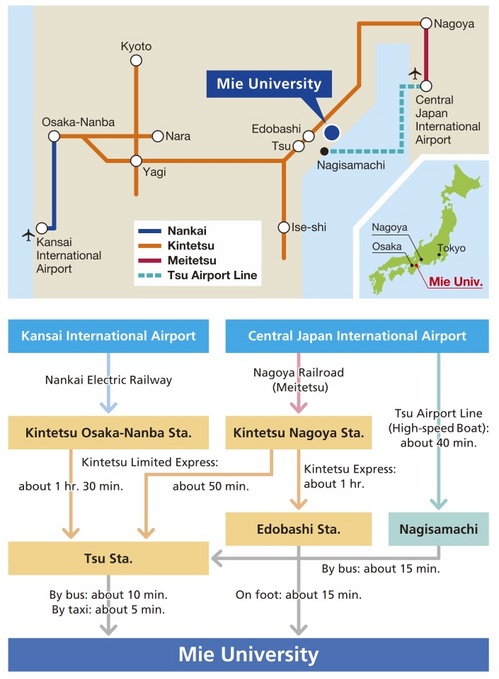 Information & How to Contact Us
Graduate School of Regional Innovation Studies, Mie University
Address: 1577 Kurimamachiya-cho, Tsu City, Mie Prefecture, Japan 514-8507
Phone: +81-59-231-9632
FAX: +81-59-231-9956
E-mail: info(a)innov.mie-u.ac.jp