Summary of our research
The survival rate of pancreatic ductal adenocarcinoma (PDAC) is very poor because early detection is difficult. Extracellular vesicles (EVs) are released from cells associating with the cellular condition and circulated in the blood. We aimed to identify EV proteins from endoscopic ultrasound-fine needle aspiration (EUS-FNA) biopsy samples in order to develop novel biomarkers for PDAC.
We identified EV proteins that significantly up-regulated in PDAC including mucins, keratins, and Ras-related proteins, which proteins have been reported to be elevated in PDAC tissue/blood, or cultured pancreatic cancer cell lines. Notably, in the 89 up-regulated PDAC EV proteins we identified novel proteins including ADP-ribosylation factor 3, and CD55. Out of 89 proteins, a total of 13 proteins were significantly elevated in PDAC stages II-IV compared to PDAC stage I, including Ras-related proteins, moesin, and CD55.
The EV proteins obtained from EUS-FNA samples contain a PDAC-specific protein barcode. The EV proteins identified from EUS-FNA samples include promising biomarkers for the diagnosis and clinical staging of PDAC.
For more information, please click here.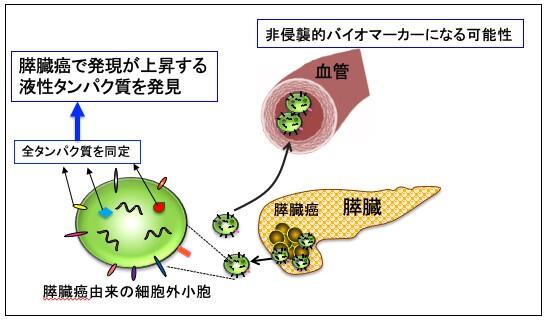 Researcher information
EGUCHI Akiko
Associate Professor, Department of Gasteroentelorogy and Hepatology, Graduate School of Medicine
Specialized area:
Cell biology, Gastroenterology, Gene delivery
Current research field:
Elucidation of the molecular mechanism in the progression of chronic liver diseases with complications