Summary of our research
According to a joint study conducted by Mie University, Rohto Pharmaceutical Co., Ltd and MG Pharma Inc., the research group led by Dr. Liqing Zang and Dr. SHIMADA Yasuhito (Representative of the Next Generation Drug Discovery Zebrafish Screening Center) revealed that Globin Digest (GD) improves visceral adiposity by upregulating UCP1 expression. The achievement of this study was published in the online scientific journal Frontiers in Nutrition (Frontiers Media SA, Impact Factor 6.576) on September 27, 2021(18:00 Central European Time (CET), September 28, 02:00 JST).
This research group has reported GD as one of the natural products with lipid-lowering effects resulting from a screening study using a zebrafish visceral adipose tissue visualization model (juvenile fish) (Nakayama H et al. Molecules 2020;25:5840). In the present study, the effects of GD on visceral adipose tissue and its underlying molecular mechanisms were evaluated using obese zebrafish and mice models. GD intake ameliorated dyslipidemia and suppressed the accumulation of visceral adipose tissue in the two obese animals. Transcriptomic analysis by RNA sequencing revealed that GD activated the pathway networks related to digestion and gastrointestinal absorption and upregulated the key regulator of energy metabolism, UCP1. Based on the qPCR analysis and immunostaining assay, GD decreased visceral adipose tissue accumulation and improved adipocyte hypertrophy with the upregulation of Ucp1 expression in white adipose tissue at both the mRNA and protein levels. These results provide a novel perspective on combating obesity.
For more information, please click here.
Researcher information
Liqing Zang
Specially Appointed Associate Professor: Graduate School of Regional Innovation Studies
Specialized area:
Pharmacological genomics; Molecular biology; Experimental zoology; Genomic biology; Physiology
Current research field:
Development of type 2 diabetic nephropathy model zebrafish and discovery for therapeutic target genes
SHIMADA Yasuhito
Lecturer: Department of Integrative Pharmacology
Specialized area:
Pharmacological genomics; Bioinformatics
Current research field:
Pharmacological genomics; Bioinformatics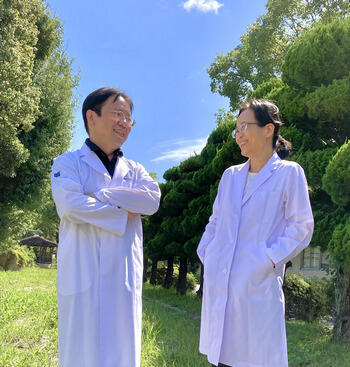 Lecturer SHIMADA Yasuhito (left)
Specially Appointed Associate Professor Liqing Zang (right)