Summary of our research
A joint research group including MIYAKE Hideto, a Professor from the Graduate School of Regional Innovation Studies of Mie University, Motoaki Iwaya, an Associate Professor from Meijo University, and Asahi Kasei Corporation has invented a novel, medium-wavelength, ultraviolet (UV-B) range semiconductor laser.
Compared to other laser-generating devices, a semiconductor laser features excellent characteristics such as a small size, high efficiency, and low power consumption. Semiconductor lasers have contributed significantly towards the use of laser beams in practical applications.
Unlike previous commercial infrared, red, green, and blue lasers, the developed medium-wavelength, ultraviolet (UV-B) range semiconductor laser has a shorter wavelength and higher energy, which has been the primary requirement of several different applications. This semiconductor laser is expected to be employed in a wide variety of fields such as medical care, bioscience, science, sterilization, and industries. In particular, its significant effects on living bodies are expected to result in new applications such as DNA sequencers and dermatological treatments, which cannot be realized using other wavelength ranges.
The developed semiconductor laser employs the aluminum nitride (AlN) template developed by Professor MIYAKE from Mie University.
Researcher information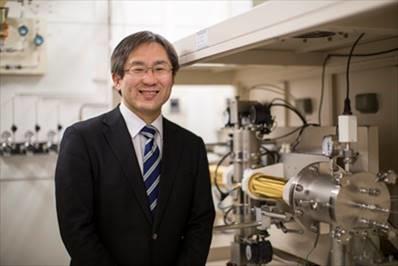 MIYAKE Hideto
Professor of the Graduate School of Regional Innovation Studies
Specialized area:
Semiconductor engineering
Crystal growth of compound semiconductor
Current research field:
Nano-structural control of nitride semiconductor